In eight (8) days the 2012 Hurricane Season will officially begin.  Of course, Tropical Storm Alberto technically kicked off the season for us when he formed off the coast of the Carolinas on May 19th, 2012.  He did not last long though as wind shear got the best of him.  That is a typical death among out-of-season tropical cyclones in the Atlantic.  The jet stream still has a fairly big influence over the Gulf and Eastern US causing storms that attempt to form to struggle, especially those that form close to the coasts.  Of the 66 tropical cyclones that have formed "off-season" (Dec 1st – May 31st) since the late 1800s, 40 of them occurred in the month of May.  Most of the May storms affected areas in the Caribbean or out in the open Atlantic.
This map shows the 9 storm tracks of those that entered the Gulf of Mexico Basin (1842-2010)
Tropical Storm Alberto makes 10 over the time period of 1842 to 2012.  Bottom line, tropical cyclones can occur out-of-season and the month of May is certainly one of the busiest in terms of out-of-season tropical cyclones.
The actual Hurricane Season for the Atlantic Basin, including the Caribbean and the Gulf of Mexico, begins on June 1st and ends on November 30th every year.
This chart (courtesy NOAA) shows the number of storms per 100 years from May-December.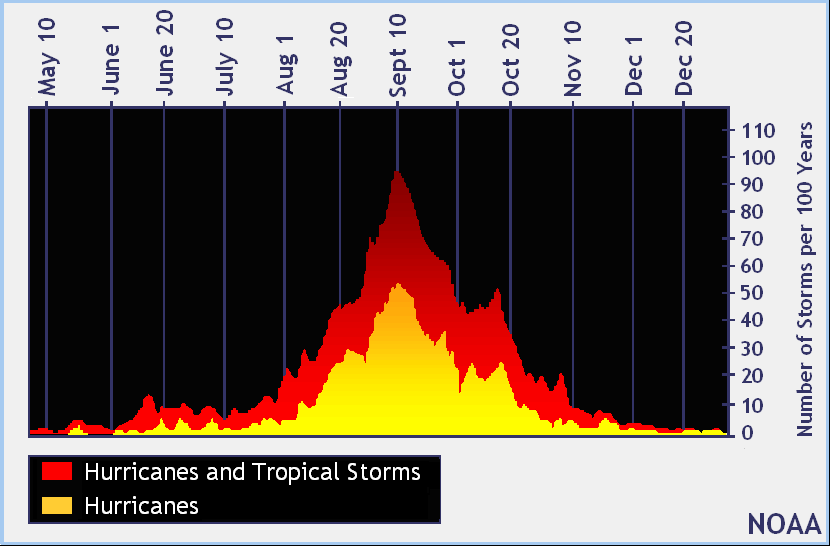 So there's a very small peak in mid-May before falling to near zero before it ramps up again towards mid-June.  The activity is pretty steady until just before August when things really begin to heat up in terms of hurricane activity.  September 10th is the general peak of tropical cyclone activity.  It begins to fall after that date until mid-October when there is another temporary spike – mostly due to the first few cold fronts moving offshore over very warm water and forming tropical cyclones – before falling to near zero by the end of December.  Yes, like May, occasionally a cyclone will form in December.  However, because the majority of tropical activity occurs from June to November it is this period of time that defines the actual "hurricane season".
Saffir-Simpson Scale
The hurricane categories of 1-5 are based on the Saffir-Simpson Hurricane Wind Scale developed by Herbert Saffir, a civil engineer, and Bob Simpson, a meteorologist, in 1971.  It was introduced to the public in 1973 and has been used since to categorize hurricanes.  The wind scale was created to describe the kind of damage that could be expected by each category.  A block of sustained wind speed also defines the 5 categories.  For example, a Category 1 Hurricane has wind speeds of 74 MPH to 95 MPH.  More detail is included in the table below.
Even if you just skim the table below, please, at the very least, read the 3rd column that describes potential damage types and extent for each category.
Category

Sustained Winds

Types of Damage Due to Hurricane Winds

1

74-95 mph

64-82 kt

119-153 km/h

Very dangerous winds will produce some damage: Well-constructed frame homes could have damage to roof, shingles, vinyl siding and gutters. Large branches of trees will snap and shallowly rooted trees may be toppled. Extensive damage to power lines and poles likely will result in power outages that could last a few to several days.

2

96-110 mph

83-95 kt

154-177 km/h

Extremely dangerous winds will cause extensive damage: Well-constructed frame homes could sustain major roof and siding damage. Many shallowly rooted trees will be snapped or uprooted and block numerous roads. Near-total power loss is expected with outages that could last from several days to weeks.

3

(major)

111-129 mph

96-112 kt

178-208 km/h

Devastating damage will occur: Well-built framed homes may incur major damage or removal of roof decking and gable ends. Many trees will be snapped or uprooted, blocking numerous roads. Electricity and water will be unavailable for several days to weeks after the storm passes.

4

(major)

130-156 mph

113-136 kt

209-251 km/h

Catastrophic damage will occur: Well-built framed homes can sustain severe damage with loss of most of the roof structure and/or some exterior walls. Most trees will be snapped or uprooted and power poles downed. Fallen trees and power poles will isolate residential areas. Power outages will last weeks to possibly months. Most of the area will be uninhabitable for weeks or months.

5

(major)

157 mph or higher

137 kt or higher

252 km/h or higher

Catastrophic damage will occur: A high percentage of framed homes will be destroyed, with total roof failure and wall collapse. Fallen trees and power poles will isolate residential areas. Power outages will last for weeks to possibly months. Most of the area will be uninhabitable for weeks or months.
Hurricane Andrew – Dade County, FL – 1992
Hurricane Andrew was mostly a wind event vs. a storm surge event and practically leveled all of Dade County Florida in 1992.  Andrew packed 150 MPH winds at landfall near Homestead, FL.  The above picture is the result.
Storm Surge
Hurricane Ike – Gilchrist, TX – 2008
After Hurricane Ike in 2008, the coastal residents of the Houston/Galveston area know all-too-well what impact storm surge can have along the coast.  Even though Ike was a category 2 hurricane at landfall, its surge was that of a stronger storm; something the meteorology community had not expected until Ike was very close to landfall (almost too late).  Ike and Katrina both produced storm surge that was well above what the expected surge was for their respective landfall categories.  Conversely, Hurricane Charley in 2004 (Florida) produced a storm surge that was far less than what was expected.
Prior to 2009, storm surge predictions were included in the Saffir-Simpson categories, but Hurricanes Ike, Katrina, and Charley all proved storm surge predictions inaccurate resulting in the removal of all storm surge forecasts by category in 2009.  Going forward the National Hurricane Center will continue to issue storm surge probabilities for each individual storm as it has since 2008, albeit more prominently.  As most us know, storm surge can vary greatly by storm size, storm strength, geography of the landfall location, and more.  Thus, the National Hurricane Center along with other government agencies are working to produce better storm surge predictions for the future.  Unfortunately, more real-world data is needed to accomplish this task.
Tropical Storm Formation Areas
From the frequency chart above, we know that not many cyclones form in June (typically), but when they do occur the map below shows the likely areas of cyclone formation and their prevailing tracks.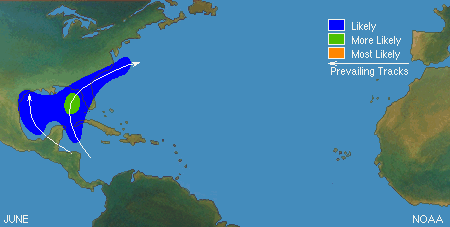 The strongest June hurricane to make landfall near Houston/Galveston was hurricane Audrey in 1957.  Audrey made landfall just east of the Sabine river in Cameron Parish, Louisiana.  With wind speeds of 145 MPH she was a category 4 hurricane at landfall.  Audrey remains the strongest June hurricane ever in the Atlantic Basin and left a death toll of 431 in its wake.  Damage from Audrey exceeds $1 Billion (inflated to present day).
2012 Hurricane Names
Alberto – Beryl – Chris – Debby – Ernesto – Florence – Gordon – Helene – Isaac – Joyce – Kirk – Leslie – Michael – Nadine – Oscar – Patty – Rafael – Sandy – Tony – Valerie – William.
Some of these names look very familiar….
Until next time…thanks for reading!